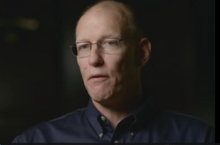 John DeLisi is an NTSB investigator who has appeared so far in two episodes of the seventeenth season of Air Crash Investigation.
Not much is known about John DeLisi at the moment. He was mentioned by NTSB investigator Tim LeBaron in the sixteenth season episode "Afghan Nightmare", were he was also referred to as "director". This could be a reference to that DeLisi was later the director of the NTSB, or some other duty within the board with that title. DeLisi appeared for the first time in season 17, were he was in charge of the Northwest Airlink flight 5719 case. He later appeared in the episode Deadly Myth, were he was the systems investigator assisting lead investigator Richard Rodriguez in the Comair case.
Appearances
Edit
Behind the Scenes
Edit
Tho DeLisi was only mentioned in season 16, he appeared for the first time in the seventeenth season episode "Killer Attitude" were he was shown as the real person during interviewing, and he was portrayed by Darrin Baker as the reconstruction of the investigation.
Community content is available under
CC-BY-SA
unless otherwise noted.